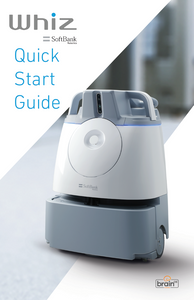 The Whiz Quick Start Guide is an 18-page manual containing instructions for using Whiz.
Topics include
Whiz overview
Battery and Notification Pager usage
Whiz set-up
Teaching mode and autonomous cleaning
Maintenance
General troubleshooting
Each Whiz is delivered with a Quick Start Guide by default.
We offer the Quick Start Guide here in case you've misplaced yours, or would like additional for your team.

The Whiz Quick Start Guide contains text in French, English, and Spanish.