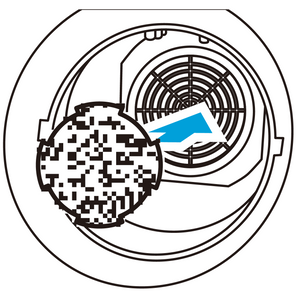 The Whiz Vacuum Motor Filter is designed to fit in front of your Whiz's vacuum motor intake to prevent dust and debris from entering the vacuum motor.
This prevents damage to Whiz in situations where the Whiz Dust Bag is not properly installed, causing Whiz to ingest dust.
Instructions:
Open the dust bag enclosure door
Remove the dust bag
Install the filter in the circular opening in the back of the dust bag enclosure, aligning the tabs.
Reinstall the bag and replace the door. Whiz is now ready to operate.
Cleaning & Reuse
To ensure the best results, please check the filter on a regular basis. If the filter is dirty, it will need to be cleaned in order to function properly.
Unlike the HEPA filters, the Whiz Vacuum Motor Filter is washable.
You can use a blower or vacuum to clean out the dirt and even rinse the filter out with water.
Please make sure that the filter is completely dry before using it again.